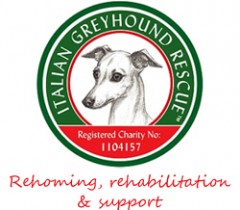 The Italian Greyhound Rescue Charity
is a registered charity that cares for the welfare of Italian Greyhounds and Italian Greyhound crosses all over the United Kingdom.
Secretary: Miss Helen Rishworth
Miss Helen Lister: Tel.: 01539 448057 team@italiangreyhoundrescuecharity.org.uk
Mr Neville Bowman: Tel.: 01837 851933 treasurer@italiangreyhoundrescuecharity.org.uk
We provide advice and support on the welfare of Italian Greyhounds to owners all over the country, as well as emergency care and long-term adoption as part of our rescue activities.



Our aims are:
To relieve the suffering of Italian Greyhounds in need of care and attention, including those who find themselves in difficulties due to a change in their owner's circumstances. Throughout the UK we provide foster and adoption homes for pedigree and cross-bred Italian Greyhounds, maintaining lifelong contact with every re-homed dog.
To ensure that Italian Greyhounds in need of veterinary care and attention receive the appropriate care and treatment, prior to facilitating their re-homing.
To educate the public as to breed requirements in order to promote responsible ownership and positive health of Italian Greyhounds.
To promote the advancement of education and science by furthering research into diseases and health issues affecting Italian Greyhounds.
We are a non-profit making organisation staffed by a team of volunteers and funded by voluntary donations.
Our network of friends includes home-checkers, foster homes and Italian Greyhound specialists all over the country which enables us to provide care for any Italian Greyhound in need wherever he/she is in the UK.
For more information please visit our website: italiangreyhoundrescuecharity.org.uk



Contact Helen Rishworth at the Italian Greyhound Rescue Charity
Email: info@italiangreyhoundrescuecharity.org.uk Tel.: 01539 448057